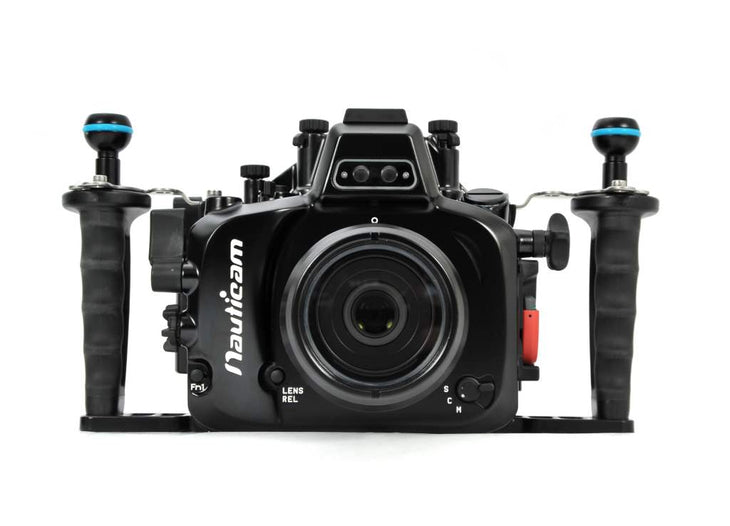 Introducing NA-XT1
Nauticam NA-XT1
The NA-XT1 is the latest in Nauticam's extensive lineup of underwater camera housings. This housing inherits the best of previous housings for high-end mirrorless cameras, while tackling the manual aperture control needed for this particular camera. Everything about the housing indicates it is a true Nauticam: from the ergonomic and well thought out access to all key controls to little things like the comfortable rubberized handles.
Like the Nauticam housings for the Olympus OM-D E-M1 and the Panasonic GH4, the NA-XT1 does not require a separate tray – it includes built in tray/handles, and features a design meant to be shot with hands firmly on the handles. The shutter release is placed for ease of access and minimum housing movement when shooting. The record button is accessible with the right thumb – no long reach to induce unwanted camera shake that can ruin a video shot.
The housing gains a new-style port locking mechanism, which will be familiar to people who have seen Nauticam SLR housings. This locking lever made it's mirrorless debut with the Nauticam NA-EM1 housing, and is an iconic symbol of Nauticam innovation. The new locking lever makes port changes effortless, quick, and just as secure.
Tripod users will find 3 1/4-20 tripod holes, with extra space allotted for the width of standard tripod plates, meaning the housing can easily be opened with tripod plate attached.
The NA-XT1 comes standard with the Nauticam vacuum system electronics built in. By default, this serves as a audible and visual leak detector, but add a Nauticam M16 Vacuum Valve, (p/n# 25612) and it becomes a vacuum check system – confirming watertight integrity before, during and after the dive – which means peace of mind.
Milled from solid aluminum, the housing is rated to 100m/330ft depth, and is rugged and ready for use!
The NA-XT1 supports both the Fujinon XF10-24mm F4 R OIS wide angle zoom lens, and the Zeiss Touit 2.8/50M macro lens. A zoom gear for the 10-24mm is now available (#36441).
With Fuji's high end lenses (called the "XF" line) and the Zeiss 50mm macro, aperture is controlled on via a lens ring rather than electronically through the camera. This old school approach will resonate with anyone who, for example, shot older Nikon SLR's before the days of electronic aperture. Nauticam is today announcing aperture rings for both the 10-24mm (#36421), and the Zeiss 50mm macro (#36422).
Magnifying Optical Viewfinders
Nauticam produces a "straight" 180º magnifying viewfinder (#32201) and a 45º angled viewfinder (#32203) that provide a bright, corner to corner view of the X-T1's excellent EVF. A patented external dioptric adjustment allows personal adjustment to a sharp-as-a-tack standard underwater and viewfinder changes can be executed in less than 30 seconds without using tools. Exceptional composition and focus accuracy have never been more accessible. An optional LCD window (p/n #17171), containing the viewfinder mounting ring, is required to attach these finders.
Lighting and Mounting Options
Reliable automatic flash exposure is available with the NA-XT1 and a variety of optically fired flashes.
The Inon Z-240, D-2000, S-2000, Sea & Sea YS-01 and YS-D1 strobes provide automated lighting, precisely reproducing the camera's onboard flash at a proportionally greater intensity.
This system yields accurate automatic TTL flash performance – even in manual mode – with no electrical sync cables to flood! The NA-XT1 comes fiber optic ready and accepts standard Sea & Sea style bushing connections. Nauticam Fiber Optic cables, available for both Inon and Sea&Sea strobes, provide the best light transmission and therefore more accurate TTL of any fiber optic cable on the market.
The NA-XT1 is compatible with the same flash trigger used on the NA-GH4, the Flash Trigger for Panasonic (p/n #26305). The Flash Trigger allows for rapid fire manual flash firing via fiber optic, with no camera battery drain.
Video lights or strobes can easily be attached to the 1" ball mounts that come standard with the housing. Additional mount points include an M10 mount point on the housing (use #25221 M10 Strobe Mounting Ball for Housing), 2 M5 mount points (use #25228 M5 strobe mounting ball), and a cold shoe mount.
In addition, Nauticam utility clamps can turn a single ball mount into 2, easily extending the mounting point choices.
Nauticam Build Quality
Only the finest materials and cutting edge manufacturing processes are used to make Nauticam housings. The housing body is machined from solid aircraft grade aluminum, then hard anodized making it impervious to saltwater and provides an impressive 100 meter depth rating. The large acrylic LCD window is treated with an anti-reflective, scratch resistant coating.
Resources
Resources
Support & Downloads
What's In The Box?
NA-XT1 Housing
Spare Main O-ring
O-ring Remover
CR-2450

 

Battery (for Moisture Alarm)
Lubricant
Instruction Manual
Set of Allen Keys
FROM THE FIELD
Images and videos from Nauticam gear in the wild