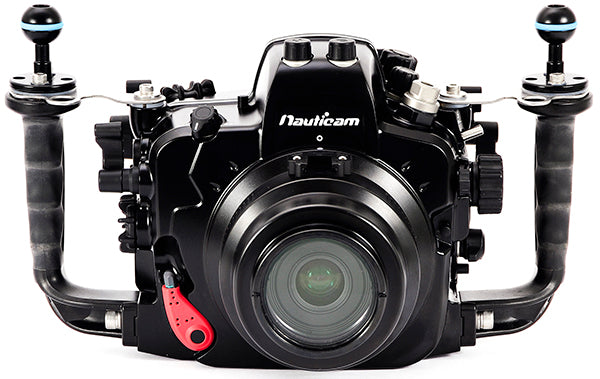 Introducing NA-D600
The Nikon D600 Camera
Nikon continues to court enthusiasts and pros by debuting impressive new products at an attractive price point. The D600 offers stellar 24mp full frame imaging at a cost that was previously the domain of pro-sumer cropped sensor bodies. That doesn't mean that the D600 is short on features – this Nikon serves up a large 100% coverage viewfinder, 39 point fast auto-focus and a 24mp CMOS FX sensor with Exspeed 3 processing that provides outstanding high ISO imaging quality. An expanded ISO range of 50 – 25,600 supports lots of creative flexibility. This sensor was even ranked in the top three in DXO Mark testing out of all camera bodies currently manufactured - better than some cameras costing considerably more.

Video shooters have not been ignored with 1080p @ 30fps on tap and 720p @ 60fps available. Clean HDMI out for external recorders, microphone inputs and headphone outputs are all a plus for serious videographers topside. The D600's 5.5 frames a second shooting rate is impressive considering the large file size, while image review is easy on the big, bright 3.2" LCD screen. One of the most striking features of the D600 is its size. This full frame, magnesium reinforced camera body is not much larger than Nikon's hugely popular D7000 DX sensor camera. For the underwater photographer this compact size is a real benefit in packability, maneuverability and weight.
Nikon D600 Key Camera Specifications
24MP Full Frame CMOS sensor
100% coverage viewfinder
1080/30p
HDMI out for external recorders
ISO range 50-25,600
The Nauticam NA-D600 Underwater Housing
Once again, Nauticam has led the underwater photography industry by being the first to deliver a fully refined housing for the Nikon D600. Nikon designed the D600 to appeal to every enthusiast or pro who longed for a compact, friendly and affordable full frame camera. Nauticam has engineered the NA-D600 housing so that it is equally friendly and compact, but has every ounce of rugged reliability and features that pros demand. Holding the nicely proportioned NA-D600 by the comfortable rubberized grips; it seems impossible that a 24mp full frame camera resides inside that is capable of out-resolving every camera in it's class save its bigger brother: the D800.
The NA-D600 incorporates dual paddle assemblies for right and left thumb. These paddles instantly access key features: Video Record and AE-L/AF-L on the right and Playback and ISO on the left. Most photographers will quickly activate them by feel while never releasing grip or looking away from the viewfinder. The housing is also clearly designed to embrace both the still and video shooter and switching back and forth is intuitive and near seamless with the live view (LV) button and live view selector. Nauticam has pioneered a new release (drive) mode control utilizing the D600's ability to lock shooting modes. This control functions independent of the exposure mode dial that it sits beneath on the camera body. Being able to shift into the D600's quiet mode (much quieter than the D800/D4) and lock it could be a real boon for pelagic shooters close to shy subjects. Front and rear command dials are larger and easier to engage than ever before – even with gloves.
Resources
Support & Downloads
What's in the box?
NA-D600 Housing
M14 Plug
M16 to M14 step-down adapter for electrical bulkhead
Spare silicone rubber O-ring for housing, O-ring remover and lubricant
CR-2032 Battery
Set of allen keys
Instruction Manual
Features
Patented Port Locking System
Unveiled on the very first Nauticam DSLR housing in 2009, this locking lever has become a signature of the Nauticam brand.  No twisting or threading action is required to mount a port, and it locks securely in place with this lever.  Nauticam also offers locking port extensions, meaning a dome will never twist, even when used with a long extension ring.
Housing Locking Latches
The industry's easiest to use housing closure system, requiring very little hand strength to operate, secures the housing back in place. The latches are safely locked to prevent accidental opening, but are easy to open when needed for a quick battery or memory card change.
Mission Control
The right hand grip features a cluster of key camera controls, all placed ergonomically for fingertip access making your handles Mission Control for your underwater imaging.
FROM THE FIELD
Images and videos from Nauticam gear in the wild