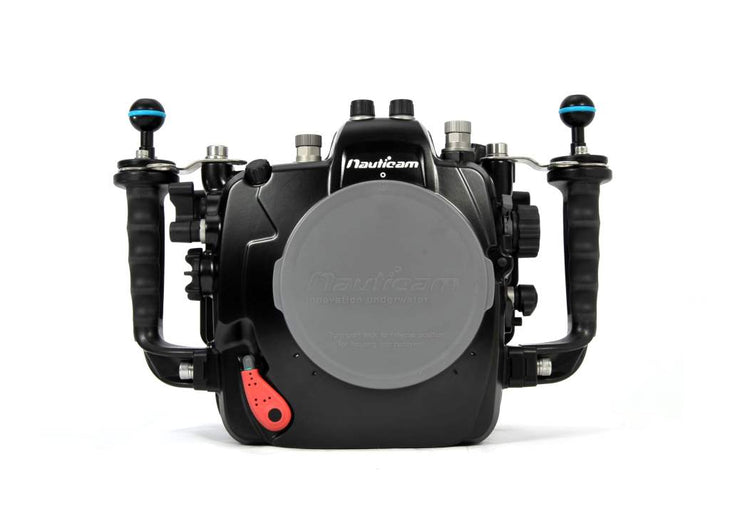 Introducing NA-D4s
Designed by photographers for those who demand the best, the NA-D4 puts the controls that matter where they can readily be used. Gripping the comfortable rubberized handles, it is obvious you are in command of a professional tool. While never releasing grip, the right forefinger activates Nauticam's patented two stage shutter release and a newly designed control for the sub-command dial with more precise refinement. The right thumb can quickly activate a new double paddle lever assembly engaging the record function on top and the AF-ON feature on the bottom lever. The EV compensation control is also easily accessed by the right thumb. A similar two paddle arrangement is placed for the left thumb to instantly activate the playback button and Info display, while the ISO lever is just as accessible. This dynamic control suite has never been so intuitive or as powerful as it is rendered on the NA-D4. The easily reached live view button and live view selector have made switching from shooting stills to video and back again easier than ever, allowing the immense capabilities of the D4 to be fully tapped. Finally there is a housing that empowers the professional in every aspect of their craft.
The Tools to Create – The Power to Deliver
In an impressive engineering breakthrough, Nauticam has patents pending on a new Multi Controller Pad located within easy reach of the right thumb. The device virtually recreates the Nikon multi selector on the back of the NA-D4 housing allowing full multidirectional use of this powerful tool. Amazingly, all 51focus points can now be reached by a direct approach – even on a diagonal. All the other scroll and select functions are equally enhanced without ever having to move from one button to another in the fashion of traditional housings.
Nauticam housings have always been renowned for excellent camera controls which have continued to evolve for the new NA-D4. The gearing and function of the main command dial wheel has been improved to more naturally and accurately make adjustments with the right thumb. Shooting modes are the province of the left hand through the release mode dial, as is bracketing, flash and metering options. Of course, all the requisite function buttons are appropriately positioned around the easily viewed LCD window and will function with exacting precision at any depth up to 100 meters.
Standard Features That Are Anything But Standard
Nauticam pioneered numerous engineering breakthroughs in previous housings that now come standard on the NA-D4. The patented housing Locking Latch System has received acclaim worldwide for its ease and functionality. These recessed latches are equipped with safety locks, reduce bulk and require minimal physical effort to engage and release.
Port changes have never been simpler than utilizing the Patented Nauticam Locking Port Release. No wrestling, no twisting, no misalignment – just seat and lock. Lens changes are also easily accomplish without removing the camera from the housing with the lens release button logically accessed on the housing front.
The lightweight, rugged Nauticam handles are generously contoured with a durable over-mold process of comfortable non-slip rubber. Virtually any hand size can be accommodated with spacers available for cold water glove use.
All Nauticam housings are machined from a solid block of seawater resistant aluminum alloy and then hard anodized making them impervious to corrosion. Hardware is marine grade stainless steel. Clear acrylic windows are protected with a scratch resistant coating.
Professional Video Options
If the substantial video capabilities of the D4 are of primary importance, Nauticam's NA-DP4 housing for the Small HD Monitor can take video performance to another level. The monitor housing easily mounts to the top of the NA-D4 and utilizes the optional HDMI Bulkhead for true HDMI connectivity. Utilizing DP4 features like Focus Peaking, Focus Assist, False Color, 1:1 Mapping and more, this larger monitor vastly improves composition, focus capability and exposure.
KEY FEATURES
Standard Features
‧ Patented Locking Port Release Lever
‧ Sensitive Two Stage Shutter Release Lever
‧ Optical Strobe Connectors
‧ Rubberized Ergonomic Grips
‧ Customizable Accessory Port (allowing use of optional Nikonos, S6, or Ikelite Strobe Connectors, Hydrophone, Video Out, or Remote Control Connectors)
‧ Embossed Control Function Labels
‧ Quick Release Camera Mounting Shoe
‧ Lens Release Button
‧ Four Strobe & Accessory Base Mounting Locations
‧ Complete Access to All Key Camera Controls
‧ .66x Optical Pickup Finder (Enhanced 180 deg Viewfinder with External Diopter Adjustment
Resources
Resources
Coming soon...
FROM THE FIELD
Images and videos from Nauticam gear in the wild